"Wrinkly Brinkly" 
Amazing Offer
It's more than a "satisfaction guarantee or money back" offer
Order today, pay only for shipping

($3.75)


When it arrives, read it. If you like it, buy it.
If you don't, it's yours to keep, no charge.
Retail price is $11.99, but order during the, "buy it if you like it" special offer and it's only $7.95.
Limit, one book per customer. Tell your friends about this limited offer, while it lasts!
(Invoice and instructions for payment will be included with your book. Pay only if you like it, it's the honor system)
What others are saying about Wrinkly Brinkly!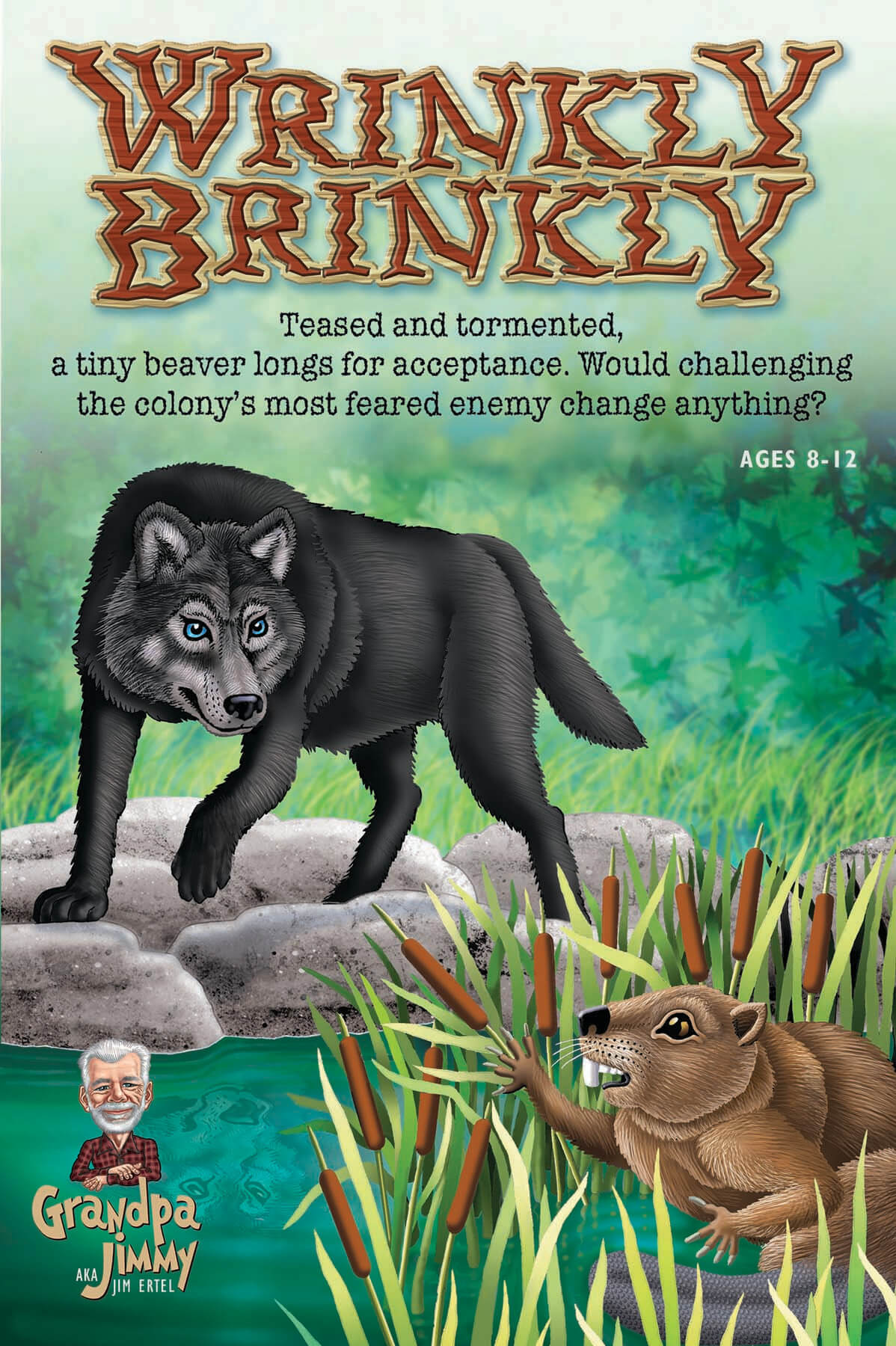 This is a MUST READ! My boys absolutely loved this book! They wouldn't let me put it down! The lessons in this book were perfect for them and they were attached to the story.  The vocabulary was so great, challenging their young minds in all of the best ways and helping to grow and expand their ever evolving mental dictionaries.  I was so pleased with how much they enjoyed it, this will definitely make it into the book rotation!
– Emily Cruz

This is one of those books that when you start to read it, you CAN'T PUT IT DOWN! This is a delightful book, written for 8-12 year olds, that teaches a variety of character traits throughout the entire story. My seven-year old son loved this book and fussed every time I had to FORCE him to put it down (bedtimes and being on time for appointments are important, you know)!! He keeps asking if we can get more books by Grandpa Jimmy and is wondering what will happen to Brinkly, Bump, Willow, and the others.
With minimal prompting, he was able to determine spiritual references throughout the book, allowing for great conversations. If you're looking for an age-appropriate page-turner for your elementary or middle school child, I HIGHLY recommend Wrinkly Brinkly by Grandpa Jimmy (aka Jim Ertel). I can only hope this book will be the start of a thrilling series for kids.
– Shannon L.

What a surprise this book was – written for 8-12 years old it kept this 62 year old grandpa in suspense until the very end with great story telling, action and adventure. There are few books written that help us navigate the waters of growing up, particularly with our flaws. Yet here is a story that not only does that but helps us to learn to listen to that still small voice as we navigate the waters we call childhood and life.
The settings where these animals live, learn, and teach us life lessons are vividly painted. It is a beautiful story of love and forgiveness that is perfect for helping young readers understand what is truly important just before they enter those difficult middle school or junior high years. I can't wait for my grandchildren to be a couple of years older so that I can read this to them!
– Jesse Hartline

Great book for young readers! The story kept me interested. It wasn't preachy and contained good life lessons for young readers. I look forward to reading it aloud to my grandchildren. There was enough drama and suspense to keep my 11-year-old grandson interested. The message was timely in this era of negativity.
– Jane Daly

I thought this was a great book for 8-12 year olds. The characters were well developed and endearing, and their adventures exciting and interesting. The author did a great job of tackling relevant issues that kids face today in a low-key manner that got the point across without being preachy. The story was engaging throughout and definitely makes you want to read more to find out what happens next! I highly recommend for the targeted age group.
– waywords, Amazon review

Grandkids loved it! Are there more stories coming? My grandkids are right at that age where they love for me to read them books, but get easily distracted by other things like TV and video games. So, I was pleasantly surprised when we opened this book, and read it cover to cover without any movement between them. I also like that the story has a good moral message. I'd recommend it.
– topsales21, Amazon review

Interesting and engaging! This is a well-written story with action and adventure that will keep middle-grade readers engaged, but yet free of raw language or dark overtones. I like that it addresses issues our kids face today such as bullying, misfits, the desire to be accepted, the ability to see each person's unique ability. Hopefully the author will write a sequel.
– Karen Hardin

Leadership is about developing people and helping others reach their full potential. Wrinkly Brinkley is a wonderful character in this story for children. He explores many of the emotions that we all encounter during our lifetime. Wrinkly demonstrates one of the most important lessons we can ever learn; humility and the ability to esteem others above ourselves. I would highly recommend this book as an example in the skills of true leadership.
.
– Donna Leischner, Amazon review

Endearing woodland characters live out the adventures in this book 🙂 Suspense and danger build the backdrop (keeping a young person's interest throughout), but the lessons of love, community and forgiveness are the take-aways. My grandson and I enjoyed it very much – Thanks Grandpa Jimmy!
– DebT., Amazon review

This book has interesting characters, a great story and a timely message of forgiveness.
– J. Perry, Amazon review