Extraordinary-Compelling-Miraculous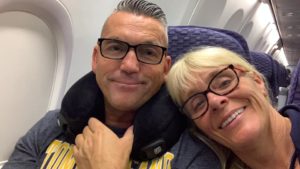 ​"You'll never be good enough, you're a loser and always will be." Those words, spoken by an angry alcoholic father, echoed through Johan's mind every day of his young life. Feelings of rejection and worthlessness drove him to prove his father and everyone else wrong.
Johan lived in the roughest quarter of the Hague, in the Netherlands. Crime was the occupation of choice in his neighborhood. By the age of eleven he was committing burglary. Assault was the norm in his early teens as the gravity of his crimes escalated. It wasn't long before he was drawn into the lucrative and dangerous drug world.
Johan believed the only path to acceptances and fulfillment was through wealth. By the time he was in his early twenties he was rich. The manufacturing, supplying and distribution of drugs made it possible for him to buy anything and everything. In fact, he had so many millions it required machines to count it all.
Money and power were like magnets, drawing many who pretended to love and respect him, but he knew it wasn't real. He felt even more empty than before. Betrayal and rejection awaited him around every corner. Cocaine became his everyday drug of choice, dulling the pain and masking the feelings.
Arrest and prison were inevitable. And for Johan, that is where his extraordinary story really began. On only one other occasion have I ever heard of such an encounter with God. Listen as Johan tells his miraculous story on the Family Stories podcast. You won't want to miss this.
Click here: "Drug Lord to Evangelist"      
God bless you,
Grandpa Jimmy
www.mygrandpajimmy.com
[email protected]
New Children's Book released, ages 8-12 "Wrinkly Brinkly"
Parent or Grandparent!
Grandpa Jimmy has a gift for you.