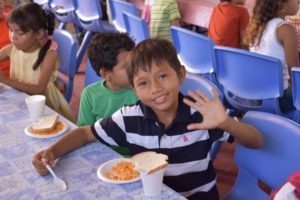 That's right, you can help boys and girls just like you. The only difference, they live in countries like Nicaragua and Mexico and they're very poor.
When you order a book from Grandpa Jimmy, part of the purchase price goes to feed kids healthy lunches at a school in Nicaragua.  The purchase of one book will provide a lunch for two kids like you.
These kids live in the poorest communities of Nicaragua and Mexico. Most live in shanties, have one set of clothes and often go without shoes. Attending a real school feels like a miracle. They receive a uniform, a t-shirt and shorts for boys or a simple dress for the girls. Once a year they get a pair of new shoes. Most important, they receive a few simple school supplies and one warm meal each day.
For the first time in their lives, they have hope for the future. With your purchase of a book from Grandpa Jimmy, you are helping make that possible."
Text, tweet or Instagram your friends. Tell them to go to this website
and order a book, or maybe several and give them as gifts to their friends.
If we all work together we can make a difference in the lives of hundreds of kids.
Ask Grandpa Jimmy a Question