A Vision and a 3D Printer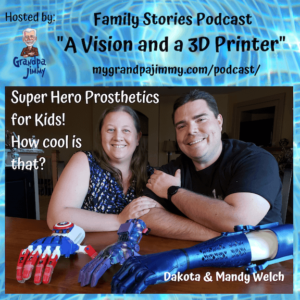 ​We have all seen children with missing or deformed limbs. Perhaps they were born that way, or perhaps it came as the result of an accident. But's it's obvious that they have difficulty doing many of the things that most kids take for granted. Like playing catch or tying a shoe. And if the physical restrictions were not enough, the looks and comments they receive from their peers can be harder to cope with then the disability itself.
It doesn't have to be that way. Dakota and his wife, Mandy, have a vision to help kids with prosthetic arms and hands. Dakota is a systems engineer with the new Space Force, working on the kind of things he just can't talk about. Mandy is a home-schooling mother of their three children. In their already busy schedules they have somehow found the time to change the lives of disabled children.
What started as an interest in 3D printing for Dakota has become an amazing and unique non-profit ministry, called Creation Station 3D. Please, take the time to listen as they tell their story, I know you will love it.
You can hear it in their own words on the Family Stories podcast, "A Vision and a 3D Printer."
Parent or Grandparent!
Grandpa Jimmy has a gift for you.