The Hurricane – Brian Jackson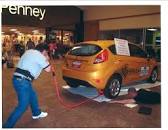 Some say he's superhuman, some call him the "Hurricane," others say he is full of hot air. But the one most people remember him by; the "I Believe Guy." And I believe is what his story is all about.
Brian Jackson holds 12 Guinness Book World Records. He has appeared on TV shows from "Good Morning America, to America's Got Talent, to Ripley's Believe It or Not." His records are unusual and amazing. They range from blowing up balloons to lifting cars with this breath.
At 5'6" he has accomplished something that even the very best of the Power Team will not try. Guinness says that one of his world records will most likely never be broken.
His story began from a jail cell. Now, it takes him around the world sharing the gospel of Jesus Christ. And one of his most amazing opportunities came in communist China on a national television program with fifty million, yes, 50,000,000 viewers. He thought he was headed to a jail cell once again, but instead they invited him back.
Listen to his story here; "The Hurricane" on the Family and Stories podcast.
You can learn more about Brian on his website www.ibelieveguy.com  and order his book, "The Great Adventure." You will also find him as a featured speaker at, www.usayo.org.
USAYO is a dedicated group of elite athletes, who reach the youth and college students of America by dealing with life's real issues, rescuing them and releasing them to serve their campus and community.
Parent or Grandparent!
Grandpa Jimmy has a gift for you.