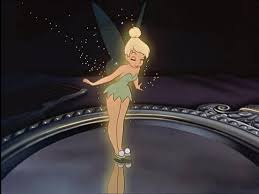 For most of us, the name Margaret Kerry would not ring a bell. But if we heard "Tinker Bell," we would immediately recall the image of the Pixie Dust Fairy in the Disney movie Peter Pan.
Did you know that the real "Tinker Bell" is alive and well? She's an energetic articulate 90-year-old woman, a newlywed and a Hollywood legend. She loves the Lord with all her heart and has a delightful story to tell.
Her life is remarkable and far from over. She started acting at four years of age in 1935. Some of you may be old enough to remember, A Midsummer Night's Dream, Our Gang, The Ruggles, If You Knew Susie, The Andy Griffith Show and The Lone Ranger. That's the short-list of the many movies and TV series in which she has appeared. Did I mention the 48 separate voices she has used in the production of over 600 animations?
However, she will always be best remembered best for the part of "Tinker Bell," the result of a Disney audition in 1951. You'll love her story.
Listen on the Family & Stories podcast: Margaret Kerry, the Real "Tinker Bell."
Parent or Grandparent!
Grandpa Jimmy has a gift for you.